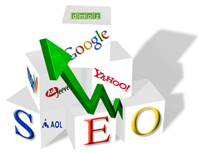 SEO or website optimization for search engines is an effective way how to attract the target audience for your website.
SEO (search engine optimization) is a set of operations carried out by our company in collaboration with the client to create a function which makes to find exactly your website's offer as a result of searching a product or service. By help of SEO we achieve the showing of your site in the highest position possible in the search results of search engines (Google, Yandex and other) as a result of searching of product or service offered by your company.
In contradistinction to traditional advertising campaigns in the internet, qualitatively carried out operation result of SEO is permanent and the return from SEO pays of several times, in spite of the fact that the effect is not obvious straight away. If the effect of traditional or pay keyword advertising campaign is just during campaign then the effect after carrying out SEO operations is guaranteed for months.
Those visitors who search for concrete product or service deliberately and reach your website will become your clients more often than they who click on splendent advertising banner with beautiful picture in hurry and due to curiosity.
Contact us to receive the offer.